Baingun Ka Bhurta
Rating: 3.5/5 - Votes: 5 - Views: 23580
This dish has a distinctive flavour thanks to the spices used in it. Baingan Bharta is a healthy food and can be served with a variety of other main dishes.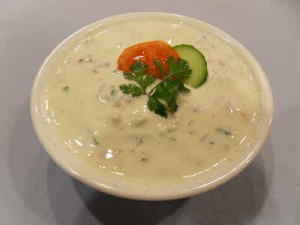 ---
Total servings:
3
Calories:
Pre-Prep time:
Preperation time:
20 min
Occasion:
Any
Cuisine:
Pakistani
Effort:
Average
Best for:
All
How to serve:
Hot
---
Ingredients:
2-3 medium sized eggplants (cut into slices)
2 boiled potatoes (diced)
1 tsp. red chili powder
2 onions (finely chopped)
2 tomatoes (finely chopped)
2-3 green chilies (chopped)
Salt according to taste
2 tsp. chat masala ot to taste
350 ml yogurt
Few fresh mint leaves finely chopped.
Preparation:
Roast the eggplant slices in hot oven or over the flame till the skin gets slightly burnt and shriveled.
Put the hot eggplant in a bowl of water and remove the skin. Mash the eggplant into pulp. Cut the potatoes into dices.
Whip the yogurt with a beater or fork to make it smooth. Add all the ingredients (red chili powder, salt, chat masala, onions, tomatoes, potatoes) and the eggplant pulp into the yogurt and stir with a wooden spoon.
Serve with Chapati or Nan