Arabian Delight Meethae Samosae
Rating: 2.5/5 - Votes: 5 - Views: 18973
A triangular pie, which is bread stuffed with a mixture of hearty nuts and sugar.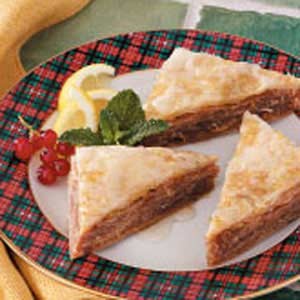 ---
Total servings:
3-5
Calories:
Pre-Prep time:
Preperation time:
25 min
Occasion:
Any
Cuisine:
Middle Eastern
Effort:
Easy
Best for:
All
How to serve:
Hot
---
Ingredients:
Raisans 500 gm
Sugar according to taste
Almonds 500 gms cut into small cubes
Apples 1/2 peeled & cut into cubes
Crushed & dried coconut 750 gms
Oil 2 teaspn
Other nuts like pistashow according to taste
Fine flour (meada )2 cups
Preparation:
Take flour add 2 tbs of oil in it than knead the flour with water until its done.
It shouldnt be too hard or too soft.
Leave it for about half an hour (if u have time).
In another bowl mix all the ingredients with sugar upto 3 tblspoon or as desired this will serve as the filling.
Then take small balls of the dough & make thin covering just like peeta bread & cut that into half.
Now place 1 tblspoon of filling in each half & give it the shape desired like a samosa or any other shape.
Seal the ends with water.
Chill it in the freezer for 30 min for good results than deep fry them.
Serve them hot & enjoy.