Aloo Ki Bhaji
Rating: 4.5/5 - Votes: 3 - Views: 34136
A side-dish that sometimes can serve as the main dish made of sliced potatoes and spices.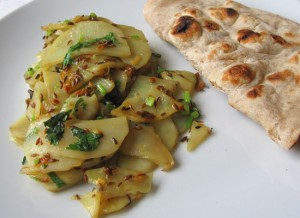 ---
Total servings:
4-5
Calories:
Pre-Prep time:
Preperation time:
30 min.
Occasion:
Any
Cuisine:
Pakistani
Effort:
Easy
Best for:
All
How to serve:
Hot
---
Ingredients:
4 potatos
4 tbsp. oil
1 1/2 ts. red chili pepper (kutti hui mirch)
2 green chilis (sliced in half)
4 tbsp. oil
1 1/2 ts. salt
half of a lemon
cilantro (chopped)
1 1/2 cup of water
Preparation:
Peel the potatos, slice into 1/4, then in little thin slices.
Pour the oil into a pan on med. heat, add the potatoes and stir well.
Add in the salt and red chili pepper and mix well.
Add the water in and cover for 5 minutes.
When potatos have fully cooked then keep on low heat and squeeze in half lemon then add cilantro and sliced green chilies.
Serve hot.