Aloo And Chicken Cooked In Oven
Rating: 3/5 - Votes: 4 - Views: 19080
An easy way to put together a complete meal. The potatoes baked with the chicken here not only absorb the delicious meaty juices, they also deliver vitamins C and B6, as well as potassium.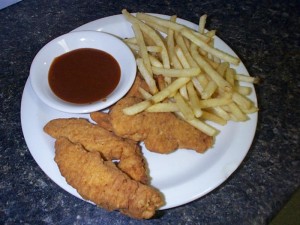 ---
Total servings:
4-5
Calories:
Pre-Prep time:
Preperation time:
40 min
Occasion:
Any
Cuisine:
Pakistani
Effort:
Average
Best for:
All
How to serve:
Hot
---
Ingredients:
Potatoes or Fries (as much as you like)
Chicken Thighs and legs ( As many as you want)
Shake N Bake (a flavored bread crumb-style coating for chicken 1 pack
Chicken Masala 1/2 pack
Gharam Masala 2 teaspoons
Lemon Juice 2 table spoons
Bread crumbs 2 tabe spoons
Salt to taste
Red Chili powder to taste
Chicken Tandoori Masala 1/2 pack
Preparation:
Turn on the oven on high
Peel the skin off the chicken.
Wash the chicken in 2 table spoons of lemon juice and make cuts in the chicken.
If using potatoes peal and cut the potatoes in circular pieces or either you can use fries.
In the corner of a tray mix all the ingredients except for chicken, potatoes and lemon juice.
Take the chicken and and put the masala on it.
Put the same masala on potatatoe or fries.
Once your done, grease the tray with oil and put the potatoes or fries on the tray then put your chicken on top of the fries or potatoes.
Pour a little oil on the top of chicken as well.
Place tray in the oven and let it cook.
The Aloo Chicken will be cooked when the chicken and the fries or potatoes are cooked as well.