Alinas Delight
Rating: 4.5/5 - Votes: 5 - Views: 20259
This is a quick dessert for the kids, my daughter loves it. Good for kids who don't enjoy eating fruit too much. In this recipe you can substitute the strawberries and cherries for any of your favourite fruit.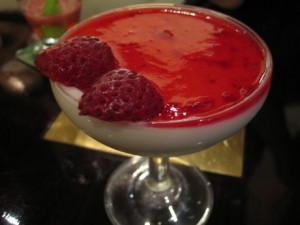 ---
Total servings:
4-6
Calories:
low
Pre-Prep time:
Preperation time:
10 mins
Occasion:
Any
Cuisine:
Pakistani
Effort:
Easy
Best for:
All
How to serve:
Cold
---
Ingredients:
3 bananas cut into slices.
10 strawberries cut into slices.
10 cherries pitted cut into slices.
250 ml Double cream whipped till light.
1 packet Strawberry jelly ready made.
1/2 pack Digestive biscuit broken into large bits.
1 tin of ready made custard.
Preparation:
Mix the double cream and custard together.
Add the chopped fruit.
Cube the prepared jelly and add to mixture.
Refrigerate till chilled or atleast for 2 hours.
Alternatively keep all the ingredients in fridge to cool and prepare and serve straight away.
Finally add the digestive biscuits to mix just before serving as they may go soggy otherwise.
Your kids will love this treat!!