Akhrot Ki Mithai
Rating: 3.5/5 - Votes: 3 - Views: 23188
Akhrot Halwa is one of the famous sweet, rich, sumptuous, mouth watering delicacy. Akhrot is another name for Walnuts.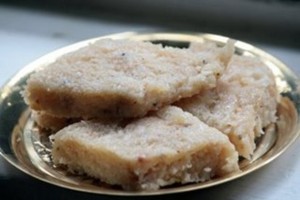 ---
Total servings:
6-8
Calories:
Pre-Prep time:
Preperation time:
10-15 min
Occasion:
Party
Cuisine:
Pakistani
Effort:
Easy
Best for:
All
How to serve:
Hot
---
Ingredients:
1 cup ghee
1/2 teaspoon cardamom powder
4 eggs beaten
2 cup milk powder
1/2 can condenced milk
2 cups walnut halved, chopped
Preparation:
Heat ghee and cardamom powder in a heavy based pan untill warm, add milk powder and stirring constantly fry milk powder over low heat for 5 min.
Add beaten eggs and stirring constantly cook until the mixture is dark brown about 5-8 minutes.
Add condensed milk and cook until the mixture leave the sides of the pan and thick, about 3 min.
Add walnut and remove from heat
Spread the mixture evenly in a greased pan, sprinkle chopped walnuts and press with the back of spoon.
Cut into square pieces and keep aside to set.