Apple Crumble
Rating: 2.5/5 - Votes: 8 - Views: 23909
This apple crumble recipe is a quicker and easier version of apple pie and goes well with a scoop of vanilla ice cream or fresh-whipped cream.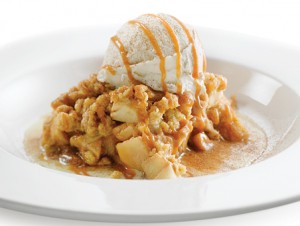 ---
Total servings:
4-6
Calories:
Pre-Prep time:
Preperation time:
45 min.
Occasion:
Any
Cuisine:
Pakistani
Effort:
Easy
Best for:
All
How to serve:
Warm
---
Ingredients:
1 cup all purpose flour
1 cup quick cooking rolled oats
2/3 cups paked brown sugar
1/2 cup margarine or butter
1/4 tsp baking soda
2 medium apples peeled cored and diced
2 tbs sugar + 2 tbs water
1 tsp lemon juice and pinch of ground cinnamon
Preparation:
In a mixing bowl combine flour, oats, brown sugar and baking soda.
Cut in margarine or butter with spatula or flat spoon till mixture resembeles coarse crumbs .
Reserve 1/2 cup cup of the flour mixture into the bottom of an ungreased rectangular shaped pan spread with apple filling sprinkle with rest of flour mixture bake in preheated 350 f (180c) oven for 35 minutes or till the top is golden coo.l for half an hour, cut into squares.
Apple filling: in a medium saucepan combine apples, 2tbs sugar+ 2 tbs water,lemon juice and cinnamon. bring this mixtue to boil, reduce heat. Simmer for 8 to 10 min or till apples are very tender.